2012 was the year that I decided I needed a change. I needed to listen to that voice that kept telling me to start my own business. Ambitious, eager and slightly over confident APG Web Studios was born.
The excitement and thrill of finally taking control in my life was quickly dampened when I was finding I was making every single mistake in the book. Cold calling, emails, business models all seemed over my head. My early excuses of 'I didn't know about that' were instantly drummed into my head when I was told 'If you want to run a business, it's YOUR job to know'. Reality struck… I knew then 'This isn't going to be a walk in the park'.
Not being a simple venture was an understatement. I never imagined that I would lose between $25,000 and $30,000 in my first year of running my business.
Doubt, regret and questions started filling my mind 'Was this a good idea?', 'Should I have not quit my stable job?', 'Do I even have the skills run a business?'. Four years of hard earned money I lost after being disciplined and moving towards a more minimalist life style could have gone towards so many other things. A house deposit, car or the latest gadgets, but I knew that even though the road ahead will be difficult, it was 'now or never'.
Being ethical in my choices was going to be a setback, but something I never would regret.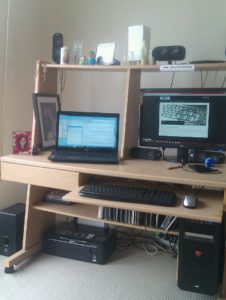 The changes in our logo:

Our first logo 2012

Second Logo – 2013/14 Edition
Signing an SEO non-compete clause at my previous job meant all my loyal clients and relationships with my clients was lost. I always get asked "Why didn't you just take your clients? Who cares about the clause".
But being true to my conscious would always come first. I could have taken the 'easier' road where relationships I had established previously would mean I would have started profiting earlier, but it just wouldn't sit right with me. One of my loyal clients I had at my previous job kept insisting and pushing to have me work on their site, but I told them I was staying true to my clause.
True relationships were demonstrated when the day after the clause ended, my loyal client was waiting for me and we happily accepted to work with them and build their brand.
After a year abiding by the clause was difficult. I was subdued to only building websites which wasn't a true passion of mine, but using the web development skills I had, I pushed on.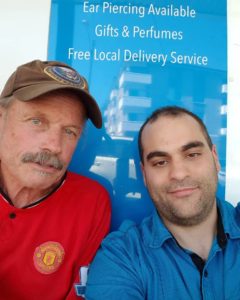 2013 was when things steadily began to take motion. Very steadily. A few things went our way as we generated a few clients as we started offering SEO services again.
Although this provided a small income, the hustle hadn't even started. Working late nights, increased stress and pressure in also organising a wedding got all too much when I fainted during our marriage preparation course (which we laugh about it now but was quite serious at the time), the realisation of getting married, looking after my wife and starting a family under my current financial situation and young business was all too much. Fainting in a public place shook my confidence and the idea of being vulnerable and it is happening again was all too real.
A 'social butterfly' as I was commonly referred to was ironically reversed when the one thing I excelled at was masked by this fear of social settings. This took a drastic hit on the business as client relationships is and has always been my number one priority. It took a good 6 to 12 months to regain and build my confidence up again.
In 2014 things picked up for the better. I married my best friend Daniela which helped build some solid ground and security again. This sense of stability to help me move forward in my life.
I matured in the way I was thinking about my life which reflected its way into how I was running my business. Obtaining a few more clients, things started looking up! At this stage we had begun developing plans to rebrand the business to reflect the maturity and change we so needed. Coming up with a name was challenging! I always liked Alpha Media as a name but was disappointed to find that someone had already snapped it up.
I didn't want to just choose any name at that point as I felt that the business name needed to be strong, confident and represent us as a brand. So, I thought I would leave the change of name plans behind until a more suitable name 'clicked' on (no pun intended!). 2014 was a comfortable yet quiet year, but it was this year where I started to realise where I wanted to take the business. An understanding of the vision and mission I would want to bring forward into the business world.
This development of mission and vision turned into what could have been one of the greatest years in the business.
2015 saw leaps in client retention acquisition. We opened a new office and welcomed a line-up of new clients. One of our most cherished and passionate causes in solving client problems and building our clients businesses growth was taking shape. Things were steadily going up until we reached a pitfall. October saw two of our highest revenue clients cease SEO.
Their choice in leaving was not due to negative results or bad performance on our behalf, if anything we had generated fantastic results. It was the commitment, resources and time we demanded of them that they fell short on and they decided not to dedicate managers to oversee the tasks we were generating for them. We were working consistently for them, but the work was not reciprocated.
Unfortunately, both these clients left within a few weeks of each other. The loss of these clients took a huge blow to the business. We began to feel discouraged as we had and still have a very strong passion for hard work, dedication, pro-activeness, diligence and patience when it comes to producing results for our clients. But with that also comes with respecting and understanding the client's decisions.
Amongst all this, we left our office due to disagreements with our landlord to install an air conditioner as during the summer periods found the office unworkable (even with a floor fan). As the year was ending, we found ourselves with no office and a few more losses of clients (Not the pretty picture book situation by any means) but giving up was not even an option.
Even though we envisioned a brighter 2015, we would not give up or surrender when times are tough. We strongly believe whole heartedly in our vision and are totally dedicated to our unique business model we just couldn't throw it all away due to a few setbacks.
In 2016 we finally brought our re-branding plans into fruition, moving away from a web design focus which our APG Web Studios brand entailed to a totally new and fresh business in "Omega Digital". Although a slow start to the year, we were able to acquire new clients and business opportunities which saw our business grow and reach new objectives it had never previously reached.
Structuring and re-branding the business came with small setbacks. Our leads were falling back due to a change in our pricing structure in becoming totally exclusive which meant that some small businesses couldn't budget for our prices. This was the time where we knew we were going to price out the small business market, but we did not have a choice. The amount of work required to get results meant we had to increase our fees.
Search engine algorithms were advancing to a level where we just couldn't provide SEO packages at the rates we were offering previously. It just was not possible financially. We had to expand and find new and innovative ways to add value to our clients from the get-go!
By mid-2016 we had become totally exclusive but ironically, we were not marketing it effectively! It was only something we mentioned to our clients over the phone or during meetings. Growing the business was still tough though. We were faced with new challenges of providing the best SEO results for our clients which was successful due to the list of top SEOs with ample experience we have on hand to provide this service and help with some of our projects.
We love working with skilled SEOs because the balance is perfect and the collaboration and dedication between each other flows almost effortlessly. Some great opportunities which added to my 10 years of SEO experience was working with a professional who had European SEO experience which bought about new insights and inside information about how SEO is done at an international level, which could only benefit how we conduct SEO in Australia.
The SEO experience I gained helped me move from an intermediate to an advanced technical SEO specialist. Overall 2016 outperformed both 2014 and 2015 combined in terms with our direction, vision, mission and overall performance.
2017 was on a very good start. New clients started coming in which provided much needed confidence. Clients from 2016 were maturing with many of them investing more time with us to help solve any issues or develop new strategies towards their businesses and domain authorities. Once again, the business was continuing to grow at a steady rate, yet not at a level of comfortability.
We decided to use this time as an opportunity to just focus on Omega Digital as a brand and give the upmost quality and time to our existing clients. We reduced our efforts to acquire new clients, to concentrate on our internal processes, business model and innovate our packages to suit our target audience.
Shutting out small businesses from our vision didn't sit right however, we had to press on (our SEO Packages are subject to change). Increases in prices will come in effect in 2018 through the continued innovation and evolution of our SEO Packages which will see us being able to deliver even more value to our clients going forward. It is not about the cost as it is about the ROI.
When I explain to clients what we deliver, the dedication in our service, the exclusivity factor, the no contracts and more, the ROI is clearly present.
Our existing clients are a testament to this and by building long term relationships with them meant our survival as a business. We are obsessed with building value, forming relationships and bringing success to our clients and ensuring they feel and become a part of the Omega Digital DNA. They represent us in both the business and corporate world and their success is our success.
We wouldn't exist without them or have lasted up until now for that matter if we didn't show the level of care we do. It doesn't work to be second best with our business model.
This is who we are. Omega Digital is a complete manifestation of my core values and if we are to exist in the next five years, one thing must never change and that is our belief in the importance of our clients.
They must feel and be treated with importance to the upmost top priority. Being exclusive is all about the client first and Omega Digital second
. My integrity, humility and passion has kept me in business single handily. In summary, 2017 was proof that by always sticking to your clients through it all, they too will abide by us even if mistakes are made. It all comes down to respect, which runs both ways
What's Next for 2018:
We are continually innovating and while it is only April 2018, the year has so much promise. New clients are very keen to hop on the Omega Digital train and take full advantage of the SEO exclusivity.
We have also developed the Digital Consulting Service for small business. We never felt right about shutting out this part of the Omega Digital family, because clients are our DNA and small business has always been there for us in the early days. I cannot simply price them out and leave it at that.
The digital consulting service is scaled down but considering the challengers small business has in terms of time and resources, this service will suffice.  We may even create new packages for them as well so there is something for every business. But each business, especially small has its own unique challengers which is why it is imperative we work with them one on one to determine what they need and set short term goals. Start things slow and build up seems to be a very popular option so we are going to be innovating this service this year.
Check out https://omegadigital.com.au/digital-consulting-service/
While this service is not exclusive in the same sense as our SEO and coming Social Media Packages, it is exclusive to the Australian market as I cannot find any other company offering what we do for that price. I could not even find a company, agency, business etc that offered a TEN YEAR DIGITAL MARKETING EXPERT to work with your business. So, while we are not exclusive in terms of working with our digital consulting service client competitors, it is exclusive in the fact that we cannot find any other agency in Australia (if not the world) who are providing a similar service. At least we will be "EXCLUSIVELY FOR THIS TYPE OF SERVICE OFFERING "
I discuss just some of the many possibilities here in this PODCAST: https://soundcloud.com/user-41396439/podcast-5-by-andrew-glyntzos
I could discuss this service all day. The possibilities are endless. The next thing I am very excited about is our coming Social Media services. I can't talk a whole lot about it of course but this will be very big, and of course exclusive. We are building relationships and trying to determine who we can work with to solve some content creation challengers and before we create this NEW social media offering, we want to have our ducks in a row. It is important to fire on all cylinders before we promote it online. We are going to be our very own case study and we are already getting so much exposure with our content creative and distribution on a tight budget that the possibilities for our clients to dominate are endless. Not to mention, these services like our SEO will be EXCLUSIVE.
Big things coming our way this year and we look forward to what this year will bring. I am super pumped with all our content marketing strategies and "REAL TALK" series. Perhaps we need a post for what we believe the next two years will be like but right now we are so excited about 2018.  We don't want to give our game away, but we love telling our existing client family about our future, so they have another form of "EXCLUSIVE CONTENT" that Omega Digital provides their clientele. We try to be exclusive in every possible way.
If you're a client that matches our client acquisition model and you're not one of our existing client competitors (For SEO or Social Media), we would love to speak with you. We may just reach out in a very non-spammy way to see if you're that person proactively. LOL, who knows?
If you got this far, wow, let us know and email me directly andrew@omegadigital.com.au with a thumbs up and/or questions. I would also be greatly appreciated if you could let me know what you thought about this six-year journey of our amazing business and its evolution over time.
I love to hear from you.
Peace out,
Director & Digital Marketing Veteran,
Andrew Glyntzos